Priceless Information: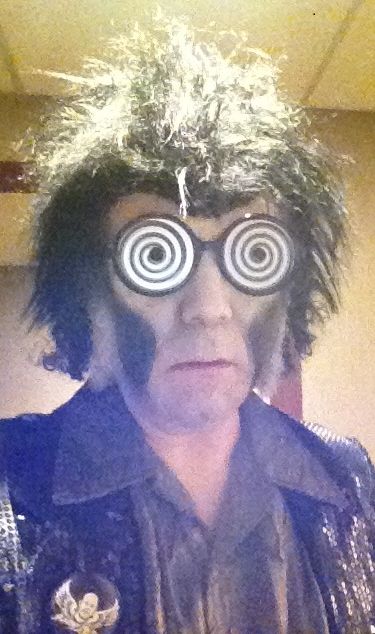 Where Punk, Prog, Power-Pop, and P-P-P-Psychedelic music meet (if, in fact, such a place exists at all), you will find me, Vincent Priceless, a NYC/Gold Coast/Jersey Swamps area songwriter, bass guitarist, Mellotron enthusiast, and all-around Rock & Roll transgressor extraordinaire.
THE MEAN CLOWNS
I have been involved in countless musical endeavors since the late 70's - most notably The Mean Clowns, having appeared on the Uncle Floyd Show several centuries ago (let's put it this way: no one owned a VCR back then, now VCRs are all but extinct – YOU do the math!), performing our Three Stooges tribute, "Hello Curly Joe" (yes, there is an equally-vital set of "Stooges" in my world). A 7" record of "Hello Curly Joe" b/w "Courtesy Is Contagious" was self-released by the band in 1980, with a total run of 1000 pieces. The sleeve featured hand-screened original artwork by yours truly and guitarist Rick Heath. It has actually become a much sought-after collectible record among power pop/punk enthusiasts.
Other adventures included the totally wired & insane Bagpipe Gunman with NYC session drummer and producer Tom Curiano and local Glen Cove guitar legend, Art Quinn; and Rocketfinger, with former Corpse Grinders/Brats guitar maniac Pat Jerry, and skins man Rob Sefcik, who is the regular tub-beater for Kings Destroy. I have also had the pleasure of playing with long-time comrade John Ford, of Strawbs pedigree, for many years.

CHILLER THEATRE FILM, MODEL & TOY EXPO & THE DEAD ELVI

As part of an on-going stint with Chiller Theatre Film, Model and Toy Expo darlings The Dead Elvi, featuring co-founders Kevin "Thumbs" Clement and Chris "Criswell" Palmerini, I fulfilled a life-long dream by playing several promo gigs with one of my musical heroes, Michael Bruce, of the original Alice Cooper Group! Also kicking-out the jams with MB & me were Platinum God & world's tallest drummer Neal Smith, and the bass player's bass player himself, Mr. Dennis Dunaway, both of original Cooper group infamy! As part of the Chiller Theatre house band, I have also had the privilege of sharing the stage with the likes of such musical luminaries as Keith Emerson, Davy Jones, Micky Dolenz, Mike Nesmith, Mark Lindsay, Cheetah Chrome, Marky Ramone, The Cowsills, Bebe Buell, Handsome Dick Manitoba, Cherrie Currie, Bruce Kulick, Kane Roberts, Liberty DeVito, Monster Mash creator Bobby "Boris" Pickett and "The Cool Ghoul", John Zacherle, to name but a select few!

BLACK LIGHT REVIVAL

July 2014 saw the release of "Black Light Revival" - a sonic slab of chaos released on compact disc, and unleashed to the unsuspecting ears of those few who couldn't get out of range in time! Limited to one hundred pieces, and released on my own home-grown Baby Werewolf label, BLR features original Rock and Roll that is stylistically all over the place and no place at all! It is ripe with psychedelic psentiments and tongue-in-cheek power-pop melodies served-up in a progressive punk malady…How's THAT for a convoluted load of BS? I jokingly refer to it as "Silver Age Rock & Roll", as it is not only firmly rooted in a more adventurous time in the evolution of Rock & Roll (let's say, '66 to '73), but is also written, recorded, (mostly) played and produced by me - the aging old curmudgeon himself! Long-time creative cohorts Tom Curiano and Art Quinn are on board to lend their invaluable talents to the proceedings as well. BLR also features (2) cool cover tunes: the Ervin Drake-penned Sinatra standard "It Was A Very Good Year", done up in a kind of Spiders From Mars vs. Jefferson Airplane groove, and "All The Colours of The Rainbow", by former Stranglers front-man and all-around punk legend, Hugh Cornwell!
HUNKY PANKY
Released in July of 2017, 'HP' ended up being a bit of a sonic tribute to the late-great David Bowie, a profound influence on so many of us. It was also released as a boutique, limited-run randomly-colored vinyl LP (edition of 100), aside from the usual 50-run CD-R version. It's very early 70's, glam-heavy sounding, if I do say so myself (I was listening to lots of later-era Move records). Long-time henchmen Tom Curiano drums throughout, and Art Quinn lends some scorching lead geetars to the mix as well!
ROBOT BUILDER
Released in April of 2018, 'RB' is a return to a more straight-ahead, punk rocking sound. Limited to 50 CD-R's. Art Quinn guests on drums, guitars and vocals. 

I continue to write, record and produce new material on an on-going basis @ my home recording studio,"The Glam Cave". Currently, I can be seen and heard holding down the low end with my ghoulish pals, the aforementioned Dead Elvi @ the Chiller Theatre Film, Model and Toy Expo, last weekends in April and October! Come on down and say hello!